Rhode Island Reds
Welcome to my Photo Album.
Click each link to view larger photo.
This page is under construction, please check back soon for more photos of our RIR's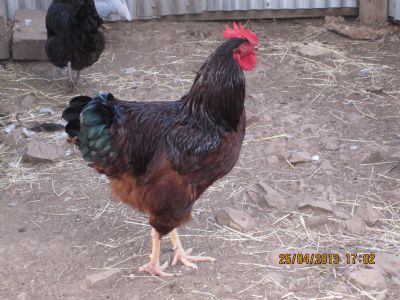 The Rhode Island was developed in Rhode Island & Massachusetts, USA and is a very popular breed consisting of 2 variations in colour, Red and White. The Red is by far the most popular and is a very hardy breed of fowl being able to cope well in both temperature ectremes.
Rhode Island Reds are a true dual purpose bird, however they are mainly kept for their egg laying capacity, which is in the area of 250+ eggs per year.
They are a fairly quiet and friendly breed, although they can be the dominant fowl in the pen, they make good mothers, caring for their chicks quite well.
Contact Details
Jenni Hogan-Rees
Bacchus Marsh, VIC, Australia
Email :
[email protected]