Introduction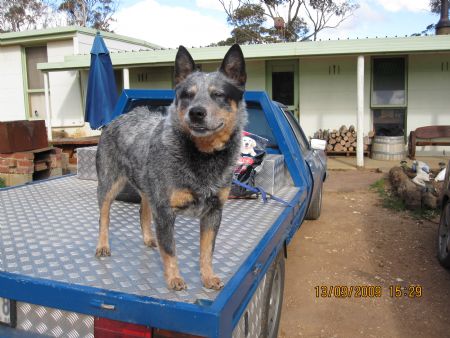 (c) Picture: Maryheather Pepsi
Kangablue Cattle Dogs was established in 1998 with 2 very special dogs 'McHarryKelly Pirate' and 'Maryheather Maddie' and is located in Rural Victoria, near Bacchus Marsh.
We are a small kennel breeding only 1 litter per year. All our pups are raised inside and are handled by many people and children since birth. We strive to breed good quality, healthy, strong and sound pups for work, show or pet. Demand for our pups is far greater than supply, however quality is more important to us than quantity. We are members of Dogs Victoria, the Australian Cattle Dog Club of Victoria and we are Registered Breeders.
Our Australian Cattle Dogs are members of our family, they are well socialised, have excellent temperaments, and are loving family pets. They are very loyal, obedient and extremely intelligent.
We are very particular who our pups are sold to as they are working dogs with loads of energy to burn and exercise and mental stimulation is a must for this breed. A love for Australian Cattle Dogs, and a dedication to their needs is essential.
Our pups are extended members of our family and their well being and care is of paramount importance to us, we do not breed them and just forget about them or the people who have purchased them. All our pups new owners have become our friends and keep in contact regulary as it is vital for our breeding program to get feedback from owners to help us improve our breeding. We love to hear about their adventures and their new lives and we love to see photos of how they have grown up.
All enquiries are welcome and I am happy to speak to you, enquiries regarding pup availability should be directed by email with your completed 'Expression of Interest' form attached. All emails will be answered promptly. Mobile Phone coverage is very poor (to say the least) here, messages and texts sometimes do not come through. Please use email as prefered contact method.
"My goal in life is to be as good of a person as my dog already thinks I am"
- author unknown-
Contact Details
Jenni Hogan-Rees
Bacchus Marsh, VIC, Australia
Email :
[email protected]