Our Equine Family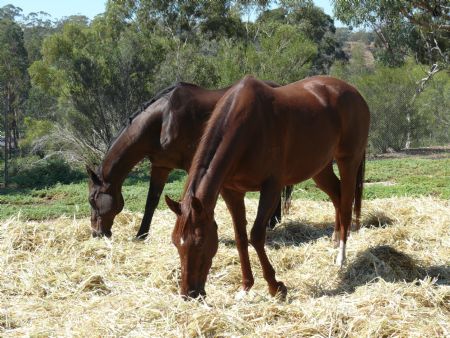 Bugger & Tequilla
Along with our Australian Cattle Dogs we are also owned by 3 horses. 'Bugger' a Thoroughbred Gelding, 'Tequilla' a Thoroughbred Mare and 'Slick' a Quarter Horse Gelding.
All our horses are 'Barefoot' and have been trained in 'Relaxation First - Natural Horsemanship'; they are very responsive, respectful and they are part of our family.
'Bugger' was born in 1990 in Minnesota USA and is an ex-racehorse who raced for 6 years in Hong Kong. Bugger has now been re-educated and re-trained to be a pleasure riding horse. He was very easy to re-train and is a very respectful gentle giant at 16.6h.
Our Thoroughbreds were a part of our wedding day on 20th March 2010, and due to all the training we have put into them, they were able to cope with a large crowd, loud music, flapping flags, cars, and unfamiliar surroundings with amazing calm.
Contact Details
Jenni Hogan-Rees
Bacchus Marsh, VIC, Australia
Email :
[email protected]